Tags: apiedit Visual edit

Line 1:
Line 1:
−

[[File:Rika_Yoshitake_character.jpg|right|250px|link=]]Rika Yoshitake is one of four new Genshiken members, coming in on her first year after seeing [[Chika Ogiue]]'s poster drawing demonstration. She is a fujoshi like Chika, but she has a very bright personality.

+

[[File:Rika_Yoshitake_character.jpg|right|250px|link=]]Rika Yoshitake is one of four new Genshiken members, in on her first year after seeing [[Chika Ogiue]]'s poster drawing demonstration. is a fujoshi , .

 
+
 
+

== Appearance ==

 
+

Yoshitake has long black hair that is usually worn with a ponytail. On certain occasions, her hair is stylized with wavy tips. She wears red colored half-moon spectacled glasses. Despite being an otaku at heart, Rika has an eye for clothes and dresses fashionably. She states her reason for doing so is not to attract men, but to impress other women.

 
+
 
+

== Personality ==

 
+

In contrast to many otaku, Yoshitake is lively and gregarious. She is also unashamed of her love for BL (boys love, aka yaoi) and will have open conversations about her hobbies. Her outgoing personality also allows her to convince people to do what they would otherwise not be willing to do.

 
+
 
+

Yoshitake is a diabolically mischievous person. She is very inquisitive and is no stranger to gossip. These traits are usually the catalyst for her meddlesome behavior among Genshiken members. Yajima often conks Yoshitake in the head to keep her in line.

 
+
 
+

== Plot ==

 
+
 
+

=== Genshiken Nidaime ===

 
+
 
+

== Trivia ==

 
+

* In addition to being a fujoshi, Yoshitake is a big fan of Japanese and Chinese history, specifically the warring periods.

 

[[Category:Characters]]

 

[[Category:Characters]]

 

[[Category:Females]]

 

[[Category:Females]]
---
Revision as of 04:06, 26 May 2016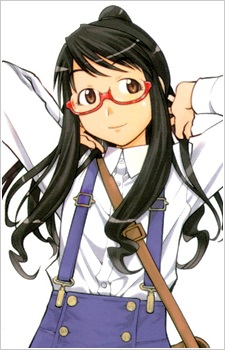 Rika Yoshitake is one of four new Genshiken members, making her first appearance in Genshiken Nidaime. Yoshitake joined on her first year after seeing Chika Ogiue's poster drawing demonstration. Like Ogiue and the rest of the new generation of Genshiken, he is a fujoshi ("rotten girl," a nickname for girls into yaoi manga). She is best friends with Mirei Yajima, and the two are often seen together.
Appearance
Yoshitake has long black hair that is usually worn with a ponytail. On certain occasions, her hair is stylized with wavy tips. She wears red colored half-moon spectacled glasses. Despite being an otaku at heart, Rika has an eye for clothes and dresses fashionably. She states her reason for doing so is not to attract men, but to impress other women.
Personality
In contrast to many otaku, Yoshitake is lively and gregarious. She is also unashamed of her love for BL (boys love, aka yaoi) and will have open conversations about her hobbies. Her outgoing personality also allows her to convince people to do what they would otherwise not be willing to do.
Yoshitake is a diabolically mischievous person. She is very inquisitive and is no stranger to gossip. These traits are usually the catalyst for her meddlesome behavior among Genshiken members. Yajima often conks Yoshitake in the head to keep her in line.
Plot
Genshiken Nidaime
Trivia
In addition to being a fujoshi, Yoshitake is a big fan of Japanese and Chinese history, specifically the warring periods.