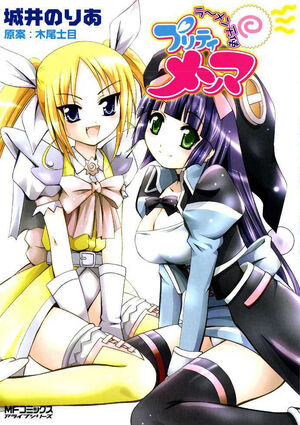 Ramen Angel Pretty Menma (ラーメン天使プリティメンマ, Ramen Angel Pretty Menma) is a metafictional adult visual novel spin-off of the Genshiken series.
The single official manga was serialized in Media Factory's Monthly Comic Alive, and was pulished by MF Comics under 1 tankobon in January 2008.
Overview
[
]
Mentioned in passing as Sasahara's first such game in the manga, it is given much greater emphasis in the second TV series.
Plot
[
]
Kaoru Torigara is the only son of a ramen shop owner whom he passed onto. Upon renovation, he discovers the shop has a guardian angel named Pretty Menma. Pretty Menma tells Kaoru that his dead father's intention is making him succeed in the "Food King Wars", a battle of restaurants around the world that is held every 4 years. Kaoru and Menma must help each other to go through the struggles of the "Food King Wars".
Trivia
[
]
In the anime, a sequel called Ramen Angel Pretty Menma 2 is featured.
The third version of the opening sequence (that uses the same song, but adds scenes and edits existing ones) shows Ogiue cosplaying Pretty Menma, Ohno cosplaying Cutie Tonko (another heroine in this series who represents tonkotsu, a form of ramen broth), and Kasukabe cosplaying Menma's mother.
This series is also spun off into its own Internet radio show, manga (serialized in Monthly Comic Alive) and a drama CD.