watch 01:25
Jurassic World: Dominion Dominates Fandom Wikis - The Loop
Play Sound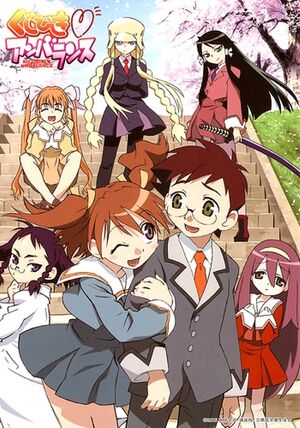 Kujibiki♥Unbalance (くじびき♥アンバランス Kujibiki♥Anbaransu), also referred to as Kujibiki "Heart" Unbalance in order to differentiate it from its original incarnation, is a metafictional spin-off series within the Genshiken series. A 12-episode Fall 2006 anime series produced by Ajia-do Animation Works aired on Kids Station from October 6 to December 22, 2006 for 12 episodes.
That version was also made into a 3-episode OVA in 2004, ostensibly as episodes 1, 21, and 25 of the 26-episode anime watched by the characters of Genshiken.
The 2006 version is, however, substantially different from the incarnation originally presented within Genshiken (though it has since appeared there in this form as well), featuring redesigned characters and a new (though familiar) plotline. A manga adaptation of this version, drawn by noted dojinshi artist Keito Koume (with creator Kio handling writing duty), was serialized in Afternoon magazine from April 2007 (June 2007 issue) to December 2007 (February 2008 issue); the second and final volume was released on 28 December 2007.
Trivia[]
This series was used as a reference where the Genshiken characters could read, watch, and discuss on a regular basis, where it was a homage/parody of many clichés of contemporary manga and anime.